.
.To reinforce our commitment to providing great representation and service to our clients our firm is a member of the Better Business Bureau, so you can be confident in retaining us, that our service record is spotless.
.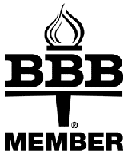 .
.
.
.
.
Mr. Latimore graduated from the University of Cincinnati with a Bachelor's degree in Psychology. Upon graduation he immediately went to law school at Georgia State University in Atlanta, Georgia, where he studied heavily in criminal law. After moving back to Cincinnati and becoming licensed to practice in Ohio and the United States Court of Appeals for the Sixth Circuit, a criminal law client came to Mr. Latimore with an immigration issue. From that point on Mr. Latimore fell in love with defending criminal deportees and immigrants who were facing removal. The great injustice that sometimes results from the immigration law and how easy it was to deport someone, even for a violation of a rather minor law, stokes Mr. Latimore's fire, fueling his fight for justice for non-citizens. Always a champion of the underdog, Mr. Latimore loves his job!!
Mr. Latimore is licensed to practice in every Immigration Court in the U.S. as well as the U.S. Court of Appeals for the Ninth Circuit, Fourth Circuit, Third Circuit, Second Circuit, Fifth Circuit, Sixth Circuit, and Eleventh Circuit.
He is also a full member of the American Immigration Lawyers Association.

TThe American Immigration Lawyers Association is the national association of immigration lawyers established to promote justice, advocate for fair and reasonable immigration law and policy, advance the quality of immigration and nationality law and practice, and enhance the professional development of its members.
AILA is a voluntary bar association of more than 10,000 immigration attorneys and law professors across the country who practice and teach in the field of immigration and nationality law. We are the nation's leading training and information-sharing organization in immigration law in the country.
>
>